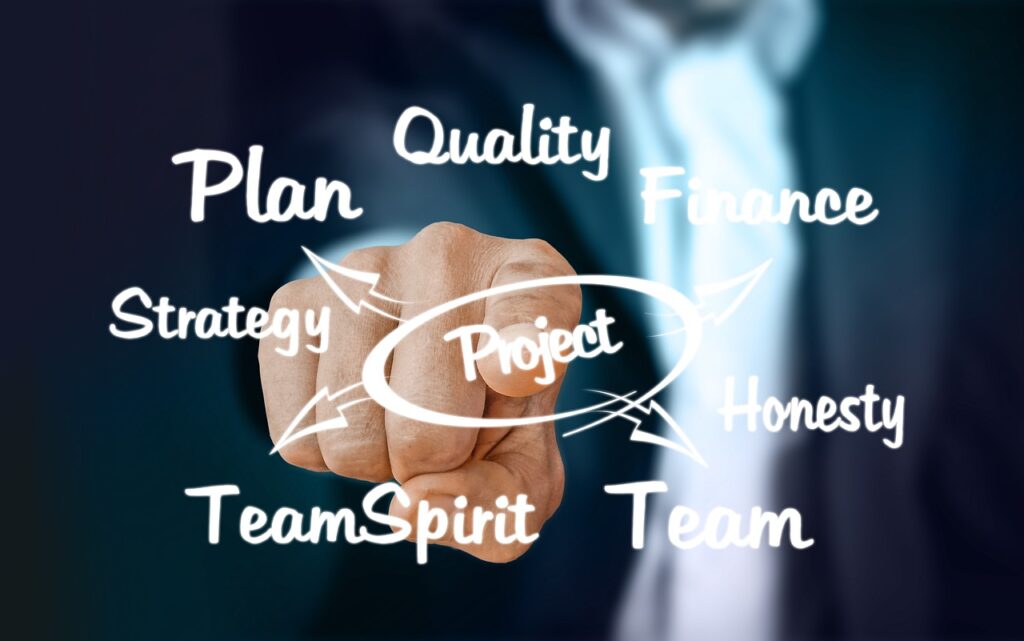 The success of a project can be measured by how close it has been to achieving goals or objectives with respect to budget and deadline parameters. If all the participants in the project work towards a predetermined goal and know where they are going, that project will be successful. This usually mean that all stakeholders achieve results that meet their expectations. In order to achieve success, it is necessary for each person involved to constantly know what they have to do. Knowing the expectations for project success can help project managers track the team's progress toward the end goals. Setting criteria for project success can help create transparency among the project team and the clients. Here are the 5 steps to successful projects:
1. Open communication and defining expectations
The goals of the project must be clearly explained in the project plans. Good communication means good cooperation. In successful projects, conflicts are treated constructively and openly. Whether it is a small business or a large firm, effective communication is imperative to ensure everyone is ready to accomplish the same objective within a project. Having open communication should be available to all project stakeholders. You should keep cultural and language barriers in mind and make use of technology.
Interactive communication is used most when sharing sensitive and important information through  face-to-face meetings,  voice and video calls or instant messages. It's a great way for presenting any methods and updates necessary for the project. Passive communication it's better for when you need to convey information that is not time-sensitive or urgent, through e-mails, newsletters, blogs and websites.
A key ingredient to successful projects is setting expectations with stakeholders and tracking them throughout the project. The goals can be constantly revisited and may evolve over the course of the project. Working to adjust expectations when issues arise will help to ensure a happy customer. If you want to ensure an effective communication,  be clear and precise, hold regular meetings and take everyone's opinions into consideration. A manager's communication skills should include the following objectives: setting priorities, encouraging collaboration, actively listening and building relationships.
2. Human component and qualifications in various fields
It is important that the persons involved are competent in the activity they carry out. All team members should have the competence and motivation to set high standards of performance. Project team members generally have a variety of skills, and working together they can successfully achieve the proposed objectives. A team's skills can have a positive impact on the efficiency of the project. Managing the human component through proper communication and engagement is one of the most important aspects of project management.
Team members need a good project manager that knows how to handle difficult situations, gain commitment and understands members and clients needs. Project managers are planners but also know when to be flexible and to divert from the plan. Qualifications in various fields can bring career advancement opportunities, open doors to other courses and improve teamwork. If the members of a team have various qualifications, they can help and complement each other in reaching long-term goals.
3. Teamwork and sharing responsibilities
Teamwork has a considerable impact on performance. It amplifies the results of each member of your team, so the overall result can be greater than the individual contributions. Also, it enables the team to overcome any obstacles or problems that come in their way. Creating warm relationships between members depends on communication, trust and mutual respect, shared values, cooperation and collaboration.
Teamwork promotes creativity, increases accountability, builds trust and improves conflict resolution skills. Make sure all project members understand what their role is and share responsibilities. When you have a diverse team that is working on different parts of a project, you create an environment that is rich in information. Teamwork ensures that resources are well-managed and less time is needed to complete a project. Working together as a group leads to the generation of new ideas and everyone's skills are used to complete projects successfully.
4. Project planning and strategy
Planning a project requires the ability to determine how long it will take to complete a task, especially if it involves creative or intellectual activities. Also, is important to focus on priority tasks, the solution of which leads to significant progress towards the goal. The objectives of the project are achieved through action. Strategic planning is the process of creating a specific business strategy that is used to set long-term goals. An effective strategy can play an important part in the growth and success of your business.
You have to focus on project details, define milestones and set progress reporting guidelines. Setting milestones breaks a project into phases making it easier to track progress. Manage project risks by performing an analysis before the project launch to identify any risks and create potential solutions. A project plan should be able to evolve and adapt to meet the needs or challenges of the project. It is a good idea to evaluate the project after completion, so that you can gather information you can use in the future.
5. Resources
All types of resources (financial, time, technological, material and personnel) must be sufficient to carry out the activities and achieve the objectives. Keep expenses within the budget, and in the same time keep high standards, procure materials and adhere to the plan. Resources are the largest contributor to successful project delivery.
They include people (work resources), equipment (consumables materials and tools), capital (as in money), time (the periods of time available and used for the completion of each task), knowledge and facilities (like an environment for project execution and office space). Most projects require many different resources to be completed. You have to make sure that you use the resources that are essential to the smooth running of the project.
A successful project is a project in which deliberate action is taken towards the proposed goal, by all the people involved, according to a plan (which can be flexible and adapted to the approved changes), in order to achieve the proposed objectives. Kj Web Office is a team composed of members with various qualifications that can help you in the successful realization of your projects. Do not hesitate to contact us for a collaboration!